A Simple Guide to Creating Your Company's Brand Identity Kit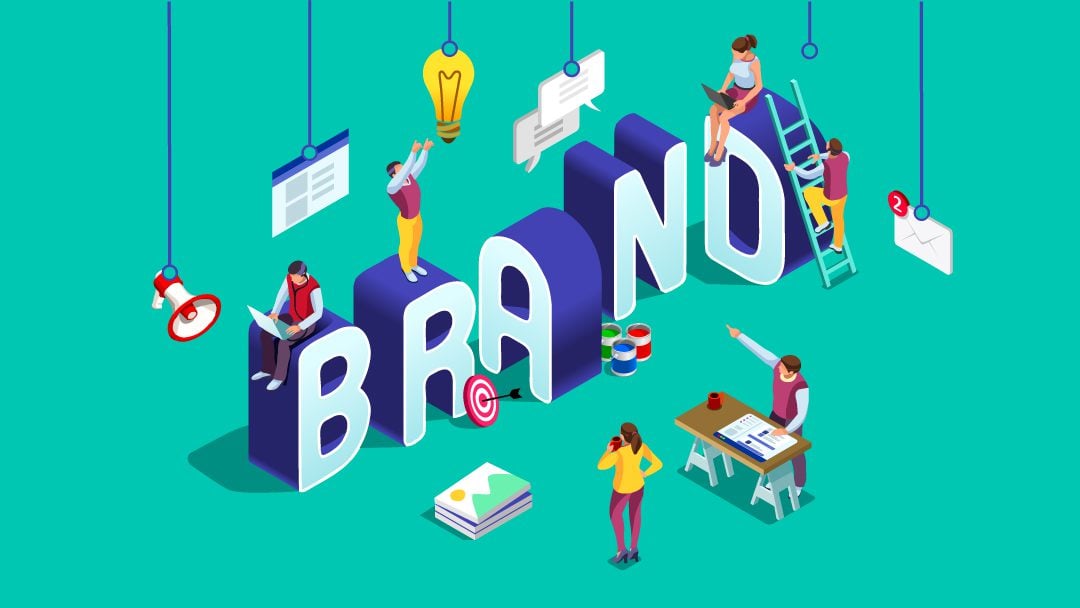 A brand identity kit is essential to the success of any company, both online and off. There are two main purposes of a brand identity kit: 1) For clients and followers to recognize a brand easily; and 2) As a set of rules for content creation. If you are here it's because you've been looking at creating one for your company. Thankfully, you are in the right place!
In this post, we'll take a look at how to easily create a brand identity kit for your company. We'll look at what to include in it, where to find some templates, and how to create one from scratch.
Let's get branding.
What Is A Brand Identity Kit?
Before getting into the practical steps of creating a brand identity kit, let's get an idea of what it is. A brand identity kit sometimes called a brand style guide, is a document that holds all the important aspects of a brand. It can be a printed booklet, a digital ebook, or even an interactive design system.
The way it's set up depends on how big a company is. A small business with a 2 or 4 person team will simply need a digital or printed document. A larger company can use a printed booklet. A company with different content creation teams is better off with a design system.
The purpose of a brand identity kit is to always create content which is on-brand. When a content creator needs to make something new, they use the brand identity kit as a set of visual rules. Brand identity kits also set the rules for social media interaction and company message. More elaborate brand identity kits, for example, design systems, also include rules for web and app development.
What to Include In a Brand Identity Kit
The idea of a brand identity kit is to stay on brand, therefore it includes all the company's branding details.
Colors
Brand identity kits show colors in special combinations or schemes. There must be one primary scheme and one other complementary scheme. Colors include hex numbers for digital content and Pantone numbers if the company uses printed content.
Fonts
Font pairing is a big part of a brand identity. The fonts are displayed both visually and with their give name. In a detailed brand kit, the fonts are specified by use. For example, Headings in Garamond 18pt, subheadings in Garamond 16pt and content in Arial 12pt.
Logo Variations
Most companies have one main logo and a couple of variations for different purposes. All versions are included in a brand identity kit along with their specific uses. Additionally, logos are visually depicted with 'how to' and 'how not to' use them in visual content.
Visuals
A huge part of a brand identity is the visuals. This includes photography, illustrations, and branded graphics. A brand identity kit explains the best use of these visuals. For example, the style of illustration, no use of stock photography, and the background texture.
Brand Message
Brand identity kits also include contextual rules for conveying the brand's message. For example, what language to use on social media, how to answer client and customer requests, or how to write emails. This also includes more detailed rules like slogans and what words to avoid on marketing material. This section can also include what hashtags to use when posting on social channels.
How to Create a Brand Identity Kit
Brand identity kits come in all shapes and sizes. From one page digital documents to printed booklets. There are also brand kits available inside online graphics editors like Visme and Canva. A design system is easily incorporated into Adobe XD, Sketch and Figma.
Creating your company's brand identity kit can be done one of a few ways:
Hire a branding specialist/designer
Hire a UX design system specialist/designer
Use a template and Photoshop, Illustrator, and InDesign
Make one with Canva or Visme
Design a logo and brand with Tailorbrands
When you hire a branding specialist or designer, you can rely on them to set up the brand identity kit ready for your team to use. The same applies to a UX design system. If you decide to make it yourself, there are plenty of templates available on sites like Creative Market. You can also make it from scratch, taking a cue from other brand identity kits in your industry.
Let's take a look at some examples of brand identity kits to inspire your own.
Examples of Brand Identity Kits
One Page Documents or Infographics
The brand identity kit below is an infographic. This type of brand identity kit can be seen on a computer as a digital file or it can be printed as a poster. You can either hire a designer to create this for you or make one yourself with any graphics editor. Creative Market and Behance both have templates available to use.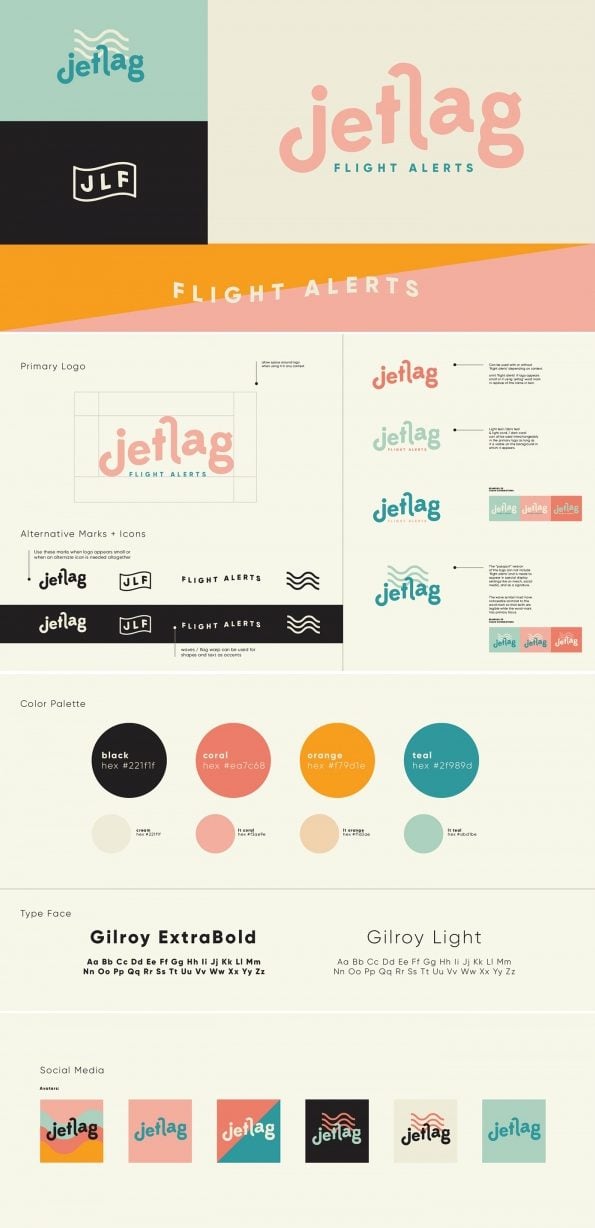 Printed Booklets
The image below is a brand guideline template for Adobe InDesign. This multi-page template includes placeholders for fonts, colors, visuals and other details about how to create branded content for a company. Use a template like this one if you know how to use Adobe InDesign. Afterward, you can either save it as a PDF or print it as a booklet.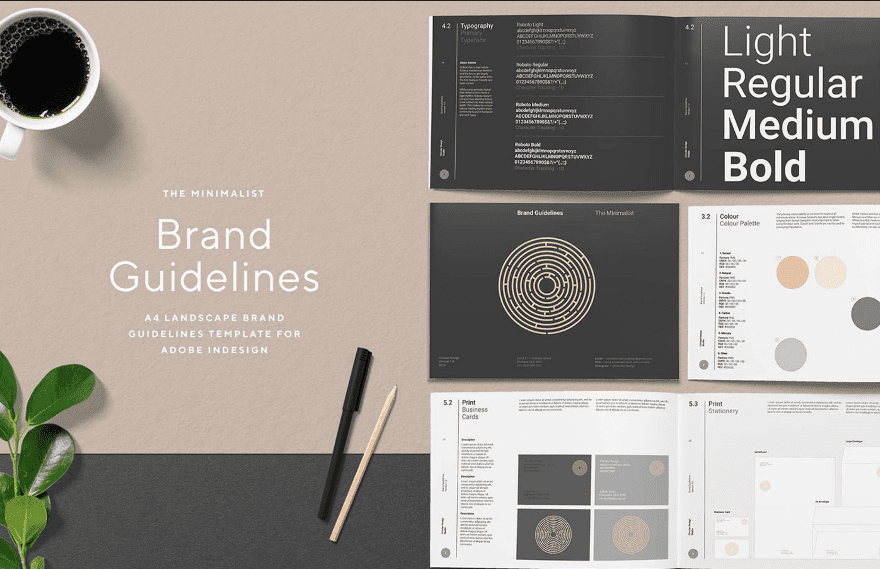 The brand guideline booklet below is for the company, Technofocus. It's a good example of a beautiful and practical brand identity kit. As you can see, the logo usage rules are clearly depicted. As well as the fonts and grid layout for all types of content. This brand identity kit is printed as an A4 booklet.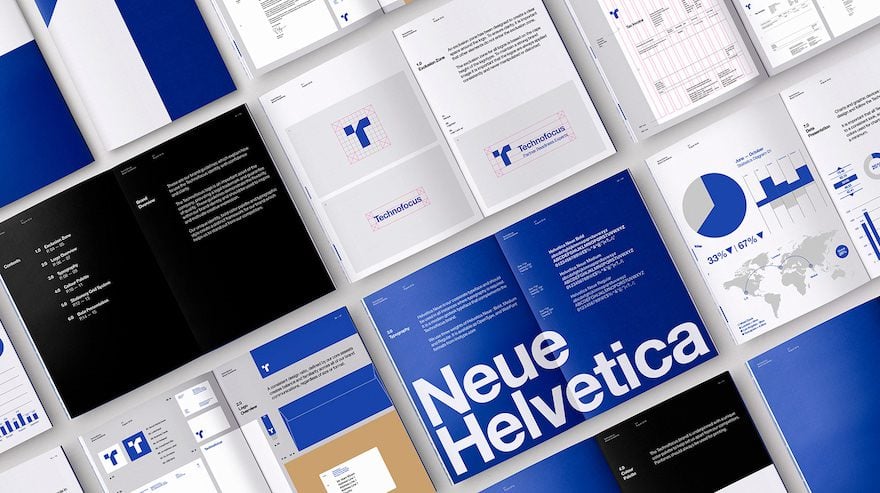 Design Systems
This is a screenshot of a section in the Freepik design system. Their design system and brand guidelines are free to explore on their website. Many brands show their brand guidelines to different groups of people.
Freelance content creators
Affiliate partners
Media and publicity opportunities
Showing a company's brand guidelines publicly is a good way to set a brand standard.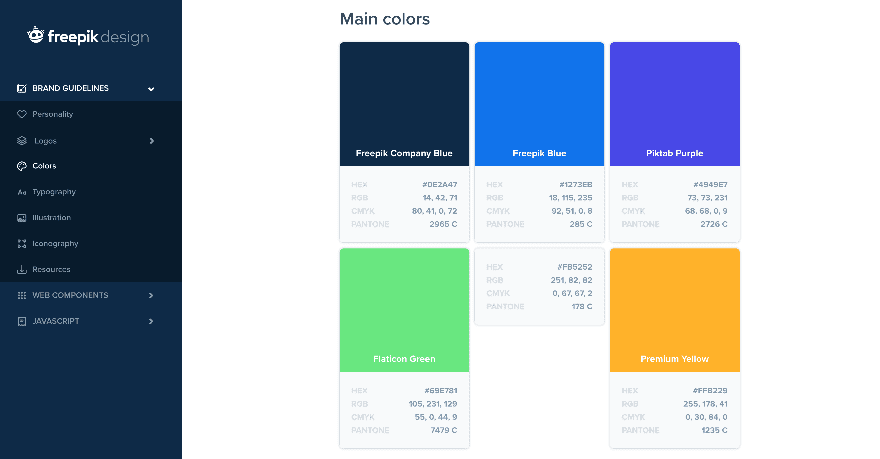 Similar to Freepik, Duolingo also has a design system. Every aspect of their brand is depicted in detail. Every person on the international Duolingo team has access to all the branding assets.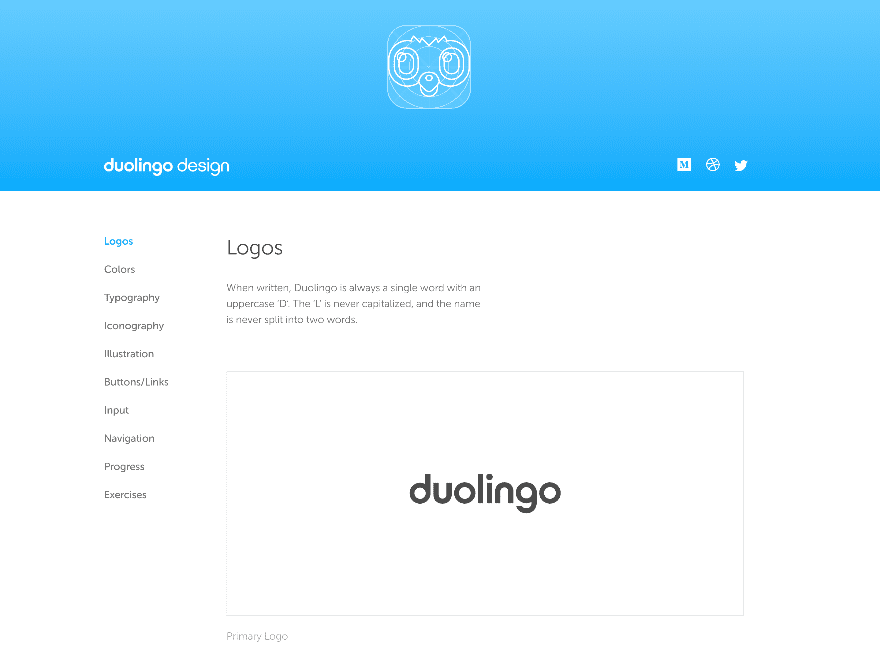 What About Your Company's Brand Identity Kit?
In this article, we showed you how to create a brand identity kit for your company. As you can see, there are different levels of complexity to a brand identity kit. If you have a small company, you can easily set it up yourself. On the other hand, if your company is large and the team spans the globe, you will need a specialist to make a design system or brand booklet. Either way, the most important thing is that your brand is depicted in the best light, no matter what new content is created.
Featured Image via aurlelaki / shutterstock.com
By Orana Velarde
Orana is a designer, artist, and creative nomad. She writes about what she loves; the intricate details of design and the creative side of visual marketing.